Region-wide Restoration Area
Region-wide Restoration Area
Restoration for the Region-wide Restoration Area would replenish and protect wildlife such as dolphins, sea turtles, birds, and oysters. Wildlife affected by the spill often live and migrate across jurisdictional boundaries—so Region-wide Restoration Area projects will be implemented across these jurisdictional boundaries as well.
The Region-wide Restoration Area is made up of trustees from each Gulf state and all the federal trustees. The Region-wide Restoration Area will be responsible for planning and implementing restoration activities for resources that range throughout the Gulf. It will also promote collaboration and coordination between the individual federal and state trustees. This will ensure that restoration is performed effectively for the entire ecosystem. These projects will provide benefits across large portions of the Gulf.
Together, we will restore natural resources—and the services they provide—that were injured by the spill. We will develop project-specific restoration plans that are consistent with the programmatic restoration plan (see chart below).  As part of the restoration planning process, we will accept restoration project ideas from the public. The public will also have the opportunity to review and comment on any proposed project-specific restoration plans for the Region-wide Restoration Area. Once approved, we will then begin implementation and monitoring of the selected projects.
Announcements & News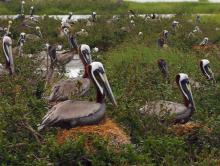 The recent settlement with BP has cleared the way for the Region-wide Trustee Implementation Group to begin working.
...
Read More
Trustee Implementation Group
The trustees for the Region-wide Restoration Area are:
National Oceanic and Atmospheric Administration
U.S. Environmental Protection Agency
Contact: nanciann_regalado@fws.gov 
Projects
Below is a list of projects being led by the trustees for the Region-wide Restoration Area. Learn more about individual projects below or view them in our interactive map. You can also learn about the environmental compliance for each of these projects.
Story and Document Archive
Looking for a particular news item or document related to the Region-wide Restoration Area?